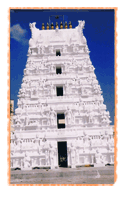 Sri Veeranjaneya Swamy is the main presiding deity of this temple is a "Swayambhu" i.e., self
existing image.

The temple has a big spacious Mukhamandapam hall with Granite Grabhalayam, Vimana Gopuram and Maharaja Gopuram. Many people from various places come to the Temple to perform Mandala pradakshinas and Mandala Abhishekam for 40 days. These devotees prefer to stay in the temple premises for 40 days and perform pradakshinas and poojas. For the convenience of these devotees choultries were built. With the strenuous efforts of the devotees, life members and temple committee the temple has developed day by day with all amenities and facilities like choultries, Kalyanamandapam, Kitchen and dining hall etc.



The Temple has celebrated its Silver Jubilee, Golden Jubilee and Diamond Jubilee celebrations.



Many devotees visit the Temple every day. Thousands of devotees visit the temple especially on Tuesdays and Saturdays for Sri Vari Sandarshanam. Accordingly prasadam is being distributed to all the devotees who visit the Temple on these days from morning till night. The temple committee has made elaborate arrangements for the convenience of devotees who visit the temple not only from twin cities but from all over the country


Sri Vinayaka



Sri Vinayaka is present on the left side of Sri Veeranjaneya Swamy on the Sacred rock as Swayambhu, the self existent image. This is the first of its kind where Sri Veeranjaneya Swamy along with Sri Vinayaka is present on the same rock and is being worshiped by the devotees.

Sri Sita Rama Laxmana and Dasanjaneya


"Yatra Yatra Raghunatha Keerthanam Tatra Tatra Kruta Masthakanjalim"

As it is stated in Hanuman Chalisa and various other Puranas, wherever Sri Rama Chandra Murthy present their Sri Anjaneya Swamy also will be present and wherever Sri Anjaneya Swamy present their Sri Rama Chandra Murthy along with Sita and Laxmana will be present. Here in Tadbund also Sri Rama Chandra Murthy along with Sita, Laxmana, Dasanjaneya is present in the temple premises.

Sri Shiva Panchayatana



As Sri Anjaneya Swamy was known as one of the incarnations of Lord Shiva, Sri Shiva Lingam along with Goddess Parvathi, Vinayaka, Vishunu and Surya which is known as Shiva Panchayathanam was consecrated in the Temple premises. As it is stated that the Shiva Panchayatanam was very powerful many devotees worship this Shiva Panchayatanam every day.

Navagrahas



Navagrahas namely Surya, Chandra, Angaraka, Budha, Guru, Shukra, Shani, Rahu and Kethu are also present in the Temple premises. Shani Trayodashi is celebrated in the Temple when Trayodashi falls on Saturday. Large number of devotees believe this day as an auspicious day and warship Lord Shani to relieve from all types of Shani-doshas.

Sri Nagendra



Nagendra, which is popularly known as Subramanya Swamy in the form of Snake is also present in the Temple. There was a big ant-hill below raavi chettu within the Temple premises in which snakes used to reside in olden days. Nagendra in black granite stone in installed at the same place in the Temple premises and is being worshiped by most of the devotees.

Usthra



Ushtra i.e., Camel is the vahanam of Sri Anjaneya Swamy. As it is stated in the History of Sri Anjaneya and in Sri Anjaneya Mangalashasanam, Camel vahanam in Block Granite stone covered with silver plate is present opposite to Sri Veeranjaneya Swamy within the Temple Premises.

Sri Veeranjaneya Swamy with Suverchala Devi


Sri Suvarchala Veeranjaneya Swamy is worshiped as Utsava vigrahas in the Temple. Suvarchala, the Daughter of Surya (Sun God) is the Wife of Sri Veeranjaneya Swamy. Sri Anjaneya Swamy has to marry Suvarchala Devi to complete his studies i.e., Nava Vyakaranas out of which four has to be Studied by Gruhasthas (married persons) only. As Sri Anjaneya Swamy dedicated his total life for Sri Rama seva, both Sri Anjaneya Swamy and Suvarchala Devi practiced Brahmacharya, inspite of their Marriage. The detailed History was present in Parashara Sanhitha, the History of Sri Anjaneya Swamy written by Sri Parashara Maharshi, the father of Veda Vyasa.
This temple also has a Ashwatha Vruksham (Raavi Chettu), Shami Vruksham (Jammi Chettu), Bilvadala Vruksham, Maaredu Vruksham, Nimba Vruksham (Neem Tree) and Usiri (Amla) chettu etc, in the Devasthanam premises which are worshiped by the devotees.